As several fellow foodie-friends will attest, lamb offers comfort, unctuousness, and versatility when you are seeking solace in food. Some of us are not so fortunate to have a Whole Foods or Wegmans grocery store nearby. No chops or leg-of-lamb roasts for those of us who live in a small town or almost-rural America. During the pandemic, if you are lucky enough to find a pound of good, pasture-raised, well-marbled ground lamb on the meat department shelves, you have reason to celebrate.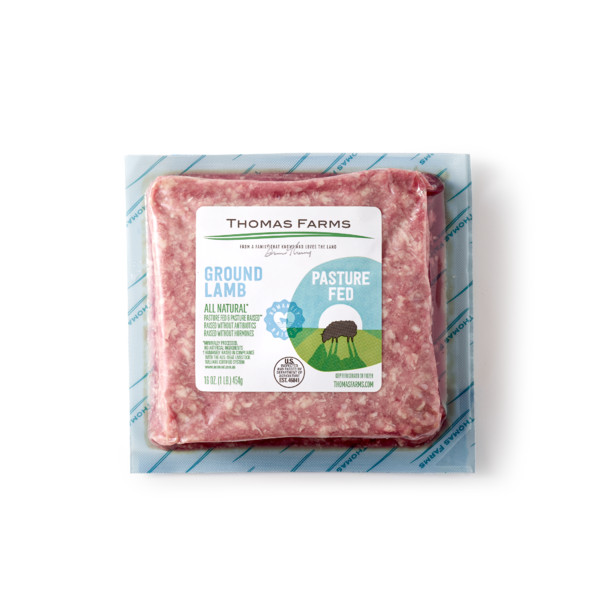 At the beginning of the pandemic, we made our family favorite: Lamb and Spinach Pie. When I scored another pound of ground lamb recently, we decided to work on our Lamb Patty recipe. The results proved delicious. I hope you will give the recipe below a try, and read through the yield notes and serving suggestions. You'll want to add this versatile item to your repertoire.

If lamb is not your thing, rethink what you do with any other ground red or pink or white meat, just be aware that you may need to add something a bit fatty to the mix to provide needed moisture—or use our trick and add more binder (maybe another slice of bread soaked with some heavy cream) and more ice water.

If you have not tried lamb in a while, this recipe may open up a previously closed culinary door for you.
As they say in Greece, Kalí óreksi! Bon appetit!

Versatile and Delicious Lamb Patties
Ingredients:
1 lb ground lamb (preferably free-range/organic) –it should be well-marbled to provide flavor and moisture
2 slices stale-but-not-dried white sandwich bread (English muffin or Brioche/Challah work well), torn into large pieces
1 scallion, coarsely chopped
¼ cup fresh parsley
¼ cup mint leaves
1 TB fresh oregano leaves
¼ cup red bell pepper, coarsely chopped
1 garlic clove, smashed to a paste with a little Kosher salt
1 large egg, lightly beaten
¾ cup rinsed and crumbled good quality Feta cheese–you want small lumps that will be distinguishable, but not overpower a bite of burger. Also, larger chunks of feta might make the burger fall apart as it cooks.
Salt and freshly ground pepper to taste
½ to 1 tsp ground Aleppo pepper (the more you cook with this wonderful spice, the more you will want to use!)
Optional: Add ½ to 1 tsp ground Sumac if you have it. See the note above!
2 TB ice water
Spray oil for coating before you grill or sauté
Method:
1. Place bread, scallion, parsley, mint, oregano, bell pepper, and garlic in a food processor and pulse until chopped and well mixed, but not pureed. Place in a medium-sized bowl.
2. Add ground lamb, pulled apart and broken up, egg, S&P, Aleppo pepper, Feta cheese, pine nuts, and ice water. Mix to combine with clean hands, being as gentle as you can so as not to overwork the mixture, which will make the burgers tough. You should have approximately 24 oz. weight after all the additions.
3. Gently shape into 6 (approx.) 4 oz patties. If I am not serving them on buns, I like to shape them into ovals.
4. Chill until you begin preparing the meal. Remove from refrigerator 15 minutes before you heat the grill or prepare them stovetop.
5. Lightly coat them with spray oil and place in a preheated iron skillet on the grill, or on the stovetop. Cook on each side for 3-4 minutes so that they remain a little pink in the center.
6. Serve immediately.
Notes: 
Yield options:
1. 2 patties per person for an entrée, unless you are serving them on buns and have an assortment of condiments and side dishes to go with them, then one patty is sufficient.
2. Portion them in two oz sizes for Sliders to serve on dinner sized rolls. 2-3 sliders per person. Adjust grilling time to about 2 minutes per side.
3. 1.5 oz Meatballs as an appetizer: 2 to 3 per person. For meatballs, I bake them on parchment paper in the oven at 375 degrees for 10-12 minutes. Check for doneness and bake longer if needed.
Accompaniments:
1. Serve with a homemade cucumber and yogurt tzatziki sauce with mint and fresh dill as flavorings, adding a bit of crushed garlic, lemon juice, and hot sauce to taste. Mix up a couple of hours before you serve so the flavors mellow a bit. Use good whole milk Greek yogurt!
2. Serve with peeled, baked sweet potato fries tossed with enough neutral oil to coat. Season with kosher salt, freshly ground black pepper, a little garlic powder, cumin, Aleppo pepper, and smoked sweet Spanish paprika (Pimentón). Bake at 400 F on a preheated foil-lined sheet pan (lightly coated with some spray oil) until tender and beginning to brown at the edges. Flip over halfway through if you wish. About 20-30 minutes total depending on how thick you slice the potatoes and how old the potatoes are.
3. Or, serve with couscous cooked in chicken or vegetable broth and flecked with slices of kalamata olives, red bell pepper, diced cucumber, slivers of scallion, a little garlic oil, green herbs, Rinsed canned chickpeas or rinsed frozen baby peas, toasted pine nuts, and some ½ inch-diced smoked cheese (gouda or mozzarella work fine). Season with S& P and a little wine vinegar and good olive oil. Serve at room temperature.
4. Add a simple green salad with one other side dish for a well-rounded meal. Just toss good greens with a dash of wine vinegar and a little Greek olive oil and season with S&P. Lemon infused olive oil would be a nice touch.